Welcome to your dental home! At Florence Dental Care, we proudly care for your oral health for a lifetime. Our team is dedicated to nurturing your smile and we aim to exceed your expectations while providing a comfortable experience. We follow all Centers for Disease Control (CDC) and Massachusetts Dental Society (MDS) guidelines to provide the safest and most up-to-date care for all of our patients!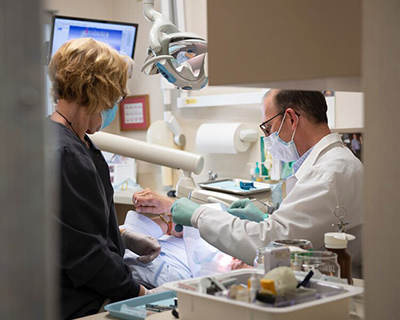 Comprehensive Dental Care
We provide dental care for the entire family tailored to your individual needs. Our goal is to maintain and restore your best possible oral health. Our most important service is helping you to understand how to maintain the health of your teeth and gums for a lifetime. Our office provides the most current and innovative dental technology and procedures for complete restoration of your smile in a gentle manner. We maintain convenient hours to accommodate people with busy schedules. If you are looking for a dentist in the greater Northampton area, we invite you to review our dental services and let us know how we can help you.
Start-to-Finish Dental Implant Center
Those who have lost teeth may feel too self-conscious to smile or talk. In addition, tooth loss may cause irregularities in biting which may lead to altered eating habits and secondary health problems. Regardless of the cause of tooth loss, dental implants provide a simple remedy with proven results. Florence Dental Care is unique in being able to provide gentle start-to-finish dental implants, including Teeth-in-a-Day service, eliminating the need for referrals to other locations. Learn more about our dental implant center.
Convenient for Our Patients
We are located right here in Florence Center only minutes from downtown Northampton! We offer extended hours during the week and Saturdays! We also provide advanced technology dentistry and same day crown procedures. Call us today!