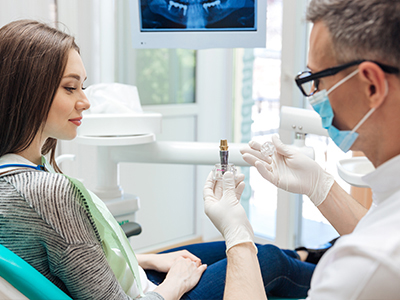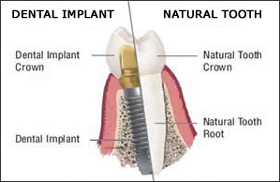 A dental implant is a synthetic, artificial tooth root surgically anchored to the jaw to hold a replacement tooth or bridge in place.
Permanent and stable structures, implants do not rely on neighboring teeth for support and will not decay or break like teeth. Dental implants are an ideal solution for tooth loss because they look, feel and function like natural teeth.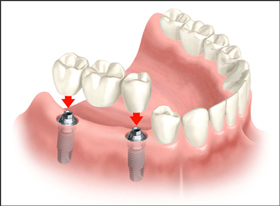 Start to Finish Implant Services
Florence Dental Care is unique in being able to provide gentle start-to-finish dental implants, eliminating the need for referrals to other locations. Dr. Ben Falk provides both implant placement and restoration. We specialize in the placement of the latest Biomet 3i and Nobel Biocare implants and CAD/CAM abutment technology. Florence Dental Care also provides Teeth-In-A-Day treatment for patients.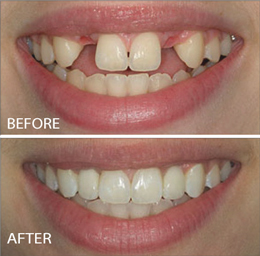 Dramatic Results
Those who have lost teeth may feel too self-conscious to smile or talk. In addition, tooth loss may cause irregularities in biting which may lead to altered eating habits and secondary health problems. Regardless of the cause of tooth loss, dental implants may provide a simple remedy with proven results. If you or a relative are considering dental implants, trust Florence Dental Care to provide a comfortable and rewarding cosmetic dentistry experience.
Frequently Asked Questions
+
What is the best method of replacing missing teeth? Are dental implants worth it?
If you've lost a tooth due to injury, decay, gum disease, or any other reason, we recommend dental implants to replace missing teeth. Dental implants come the closest to replicating the look, feel, and function of your natural teeth.
+
Are dental implants painful?
Dental implants are placed into the jawbone and mirror the same function as the root of a tooth. The procedure for dental implants is usually performed while a patient is sedated. Patients who undergo IV sedation must have an empty stomach and transportation home following the procedure. Most sedation patients will have little to no memory of the procedure occurring.
+
What are dental implants made of?
Generally, dental implants are made out of a biocompatible metal such as titanium. Biocompatible metals are also used for other common bone implants (such as shoulder, hip, and knee replacements). The visible portion of the implant is usually made out of porcelain and is custom-made to match your existing teeth.
+
Are dental implants permanent?
Dental implants are designed to fuse to the bone, which makes them become permanent fixtures. Typically speaking, the success rate is nearly 100%. There are few cases in which the implant will not fuse as intended and must be removed. If this happens to occur, the procedure can be attempted again a few months later.
+
Are dental implants expensive?
Dental implants are not usually covered by dental insurance, but may be covered under a patient's medical insurance. The office of Florence Dental Care and your insurance company can discuss coverage options with you based on your individual case and treatment plan.
+
How do I care for my dental implants?
It's easy... just take care of an implant as if it's a natural tooth! This involves regular brushing, flossing, and dental checkups. If you have any concerns about your implant, contact Florence Dental Care immediately.