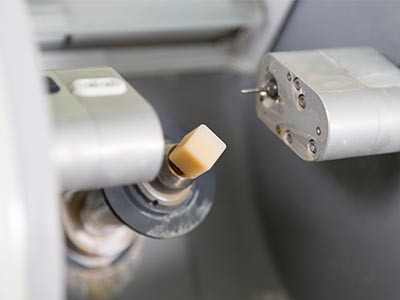 Using advanced computer-aided design and manufacturing technologies, CEREC (Chairside Economical Restoration of Esthetic Ceramic) enables the dentists at Florence Dental Care to construct, produce, and insert individual ceramic restorations directly chairside in a single appointment. This capability eliminates the need for multiple appointments with lab work in between and is far more economical. CEREC can be used for crowns and the repair of most tooth decay with ceramic materials that are tooth-colored for an accurate match.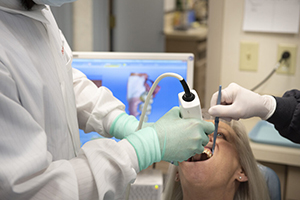 Final Restorations in a Single Visit!
During a chairside treatment, we carry out all four restoration steps in our office in a single visit:
Digital Impressions
Design Restoration
Grind and Mill Restoration
Sintering / Finalize
Your dentist uses an intraoral camera to take a photo of the preparation, the targeted teeth, and the bite situation. Based on these images, the CEREC software creates a virtual model of the patient's tooth situation. The dentist then uses this model to construct the tooth restoration on the screen and then networks the finished construction to an on site milling machine. Depending on the type of restoration, it is then milled out of a color-matched ceramic block in just 6 to 15 minutes using diamond-coated milling units. The grinding/milling cycle for these custom restorations is extremely precise, resulting in smooth surfaces and edges as well as very fine details. The dentist can then add the finishing touches to the restoration by painting, polishing, and glazing it, before applying the restoration.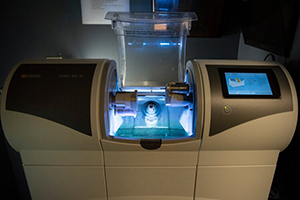 Benefits
CEREC technology makes it possible to produce and integrate ceramic restorations in a single appointment at Florence Dental Care. Unlike other materials such as amalgam or gold, ceramic is more biocompatible and boasts tooth-like physical and aesthetic qualities.
In addition, the digital impression technology at Florence Dental Care is more comfortable for patients than traditional impressions. CEREC digital mapping technology charts the inside of a patient's mouth completely and accurately and down to the last detail. This ensures there is no issue with inaccurate dental impressions that in the past lead to potential discomfort with bulky molds and unnecessary debris in their mouth.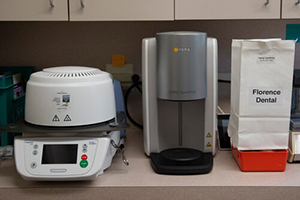 CEREC also reduces the amount of follow-up work and bite adjustment often necessary in the past. According to studies, the ten-year lifespan of CEREC inlays polished and milled with the aid of a computer is significantly longer than that of gold inlays, but also exceeds that of individually laboratory-manufactured ceramic inlays.
Please contact us for more information on how we would use CEREC for your dental situation.
® CEREC is a Registered Trademark of Sirona Dental Systems GmbH
Frequently Asked Questions
+
What are CEREC® same-day crowns?
Today, there's no need to merely imagine how nice it would be to have a dental crown fabricated in a single visit. With CEREC technology and advanced systems of care, multiple trips to the dentist are a thing of the past! Now, one appointment is all it takes for our skilled and experienced dentist to design, fabricate, and place a naturally beautiful and long-lasting same-day crown. And, best of all, unlike conventional methods of care, you won't have to endure messy dental impressions, wear a temporary crown, or wait weeks for your permanent restoration to come back from the laboratory.
+
How are CEREC® same-day crowns made?
Offering a level of precision and comfort that exceeds conventional methods of care, CEREC technology is nothing short of amazing! Advanced CAD/CAM technology, which stands for computer-aided design and computer-aided manufacturing, enables our dentist to translate images from an optically scanned tooth into a 3D virtual model upon which a custom crown can be digitally designed. Once this step is done, the detailed specs are then wirelessly transmitted to a chairside 3D milling machine to fabricate your new ceramic crown while you wait!
+
What are the benefits of CEREC® same-day crowns?
With conventional methods of care, a dental crown can take two to three visits to fabricate and place. However, thanks to the benefits of CEREC technology, we can prepare a tooth, then design, fabricate, and place your new crown, all while you wait.
With CEREC same-day crowns, there's none of the mess of conventional dental impressions, wearing dental temporaries, or waiting for the final crown to come back from the lab. Once the prepared tooth is optically scanned and the restoration digitally designed, your new crown can be milled from the highest quality of dental ceramics that very same visit.
+
Will my CEREC® same-day crown look natural?
CEREC same-day crowns and restorations are fabricated from the highest quality of dental ceramics. Because dental porcelain reflects light in much the same way as dental enamel, your new crown will look flawless, completely natural, and blend seamlessly with your smile.
+
Do CEREC® same-day crowns last a long time?
A CEREC same-day crown offers much more than a convenient approach to getting a dental crown. It is also a high quality, naturally beautiful, extremely durable, and long-lasting dental restoration! The fact is, with proper oral hygiene and routine dental care your new crown will serve your smile well for many years to come.