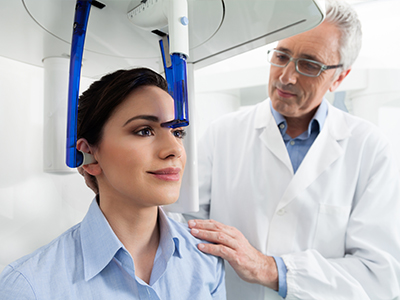 Technical developments in dental care continue to bring tremendous benefits for our patients. At Florence Dental Care we are committed to providing the most state-of-the-art dental technology available. These advances enable us to diagnose conditions earlier, preview results, and provide effective treatments that maximize patient comfort.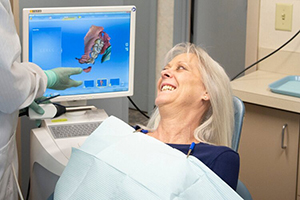 Advanced Dental Imaging
Florence Dental Care has state of the art 3-D dental imaging capabilities providing the highest quality imaging available without increasing the radiation dose. The Sirona XG3D system makes possible full panoramic scans with brilliant, high-contrast and 3-D images.
The striking detail provided by this imaging saves patients time in both diagnostic evaluation and surgical planning of implants. With more information available for discussing treatment alternatives, patients benefit from a better understanding of the need for treatment and outcomes can be predicted with more precision. State of the art dentistry requires state of the art information and Florence Dental Care has the ability to bring all of these benefits to our patients.

Extraoral Dental Suction System
The EOS suction system-Aerosols and Droplets annihilator is designed and engineered to reduce droplet and aerosol spray that is an innate part of dental care. During dental procedures, Droplets and Aerosols are passed on to the dentist and staff's bodies. Patient care and the safety and health of the staff and the dentist is paramount, for the elimination of blood, aerosols and fine liquid particles. All of which are annihilated by the ADS EOS extraoral dental suction system.
The ADS EOS extraoral dental suction system collects aerosols, droplets, dust and pathogens produced during routine dental procedures through a suction mouthpiece hood. Particulate matter is filtrated by the dust/particulate filter. The HEPA filter captures particles down to 0.3 microns with 99.995% efficiency. Clean dry air is exhausted from the base cabinet. The UVC lights are positioned on the HEPA filter and kill any remaining bacteria and viruses captured by the HEPA filter and are exhausted from the cabinet base. In ISO16890, European standard EN 1822:2009, EN 779:2012 and DOE-STD-3020-2015.
Specification for HEPA Filters Used by DOE Contractors, all mention HEPA filter H14 is a medical-grade filter that filters a minimum of 99.97% particles @ 0.3 microns (PM 0.3) or larger. With our special module design in the EOS Extraoral Suction System, fine filter, suction motor, UV light and HEPA filter are tightly buckled together into one metal module which is well sealed, this reliable structure helps to trap the dirty air inside, will not be leaked. In the article from CDC infection control online, mention the HEPA filter must be well sealed, a wooden or metal frame is required, a metal frame is much better. The ADS dental suction system is using a metal frame for a HEPA filter.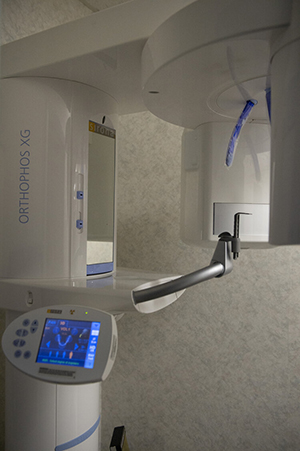 Digital Radiographs
Dental radiographs or X-rays, are an important part of a thorough examination. They can expose hidden tooth decay, reveal a tooth abscess, show impacted or extra teeth and help determine the condition of prior dental work. At Florence Dental Care we use the Dexis system for digital radiography which offers an 80 percent reduction in radiation, no need for film or processing chemicals and the production of a nearly instantaneously image. Our patients can readily see and understand conditions and recommended treatments, leading to more informed decisions and better results.
Patient Comfort is a Priority
Your comfort is of paramount importance during treatment and we have multiple options to choose from. If your anxiety level is high, we can address it.
One option, nitrous oxide/oxygen, is one of the safest sedatives in dentistry. It is well tolerated, has a rapid onset, is readily reversible and can be adjusted in concentration. The patient is fully conscious and capable of responding to a question or request. We also have other sedatives and anesthetics available.
In addition, Sirius/XM radio can be tuned to your liking and we offer neck pillows and lavender eye bags. "We cater to cowards" and strive to make your visit as pleasant as possible.
Intraoral Cameras
Advances in video technology have made possible small cameras for dental imaging. With a camera about the size of a pen, we can record the mouth and present it as an image on a monitor that is magnified 10 – 40 times natural size. Intraoral cameras enable our patients to see exactly what the dentist sees and they are a tremendous aid in diagnosis and patient education.
Ultrasonic Instrumentation
Advances in ultrasonic techniques now make it possible to remove calculus from teeth using an ultrasonic instrument. The instrument produces a soft ultrasonic vibration that increases the efficiency of calculus removal both above and below the gum line. This technique reduces the need for hand scaling of stubborn deposits and provides more comfortable access to the root surfaces. It is an important tool in the prevention and treatment of periodontal disease.
High Intensity Bonding Lights
Dental bonding lights are hand-held units that produce a light which triggers the setting and curing of dental materials. Composite resins are applied and sculpted in stages on the natural surface of the tooth. A high intensity curing light is then used to harden that layer of composite. The steps are repeated until the filling or composite veneer has reached its final shape. At Florence Dental Care, we use bonding lights to activate the setting of a wide range of dental materials to give patients effective, natural looking results.

Zoom! Teeth Whitening
Zoom! is one of the leading in-office bleaching systems used worldwide to whiten teeth. The Zoom tooth whitening procedure uses a proprietary gel in combination with the Zoom Advanced Power Lamp for activation. The light and gel work together to penetrate teeth and remove stains and discoloration, leaving the structure of the tooth unchanged. Zoom! can safely whiten teeth an average of 8 shades in about an hour.
For more information about any of our advanced dental services, please call us at (413) 586-0320 or use our contact form if you prefer to email.