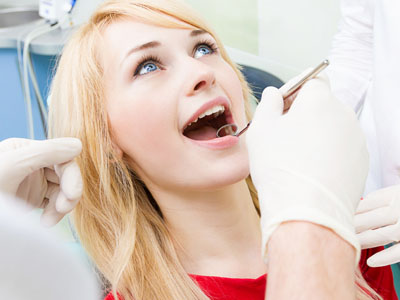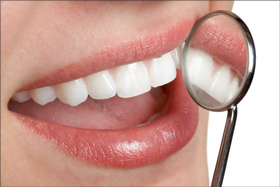 The road to optimal oral health starts with a thorough dental examination. The Florence Dental Care exam involves more than just looking at your teeth.
Our thorough dental care services include examining the hard and soft tissues of the head and neck, the temporomandibular joints (TMJs) and screening for oral cancer. We utilize the most up to date technology such as intra-oral cameras and digital radiographs to establish a baseline for record for long term oral health. This record is updated every time we see you for any reason.
Your Baseline for Great Oral Health
There are numerous benefits to Florence Dental Care's comprehensive exam:
Establishing a baseline enables monitoring of any change in your oral health. This permits early identification of problematic conditions and major problems can often be avoided or minimized.
You are in control of your dental health by having the information to make informed decisions. Florence Dental Care can create a lifelong dental health plan to meet both your near and long term needs. You can choose what you want to do, when you want to do it.
It helps you keep your natural teeth. Dental disease typically progresses slowly and usually becomes noticeable to you only when it has reached an advanced stage. Discomfort is usually the last symptom of a detrimental dental condition. Our gentle exam measures your dental health using multiple criteria and a deteriorating condition can be headed off before it leads to a major procedure.
It costs less in the long run. Like most things, regular dental examinations and care cost far less than crisis management and major procedures.
Florence Dental Care is committed to maintaining your optimum oral health for a lifetime.
Contact us for a comprehensive evaluation today!
Frequently Asked Questions
+
How often should I go to the dentist?
Florence Dental Care knows that sometimes patients delay dental treatment as a result of anxiety, scheduling, or finances. However, we recommend our patients come in for a teeth cleaning every six months. For those with dental health complications, it is sometimes necessary for more frequent visits.
+
How can I improve the appearance of my smile?
Thanks to advances in modern dentistry, teeth that have been affected by a range of imperfections or that have sustained damage from trauma or dental decay can be restored to produce a naturally beautiful looking and functional smile.
As skilled and experienced providers of care, our office can effectively improve and enhance the appearance of teeth that are stained, discolored, misshapen, chipped, fractured, gapped, crowded, or broken down due to dental decay. At the office of Florence Dental Care, we offer a comprehensive selection of the leading-edge cosmetic solutions from teeth whitening procedures, dental bonding, tooth-colored fillings, and veneers, to prosthetic solutions and dental implants to rebuild complete and beautiful smiles.
Contact our office to learn more about the many ways we can help you create the smile you've always wanted.
+
How should I prepare for my dental appointment? What should I bring with me?
If you're visiting Florence Dental Care for the first time, it is helpful that you contact your former dental office and have your records sent over to us. Also, please fill out our new patient paperwork in advance to save time. Make note of any problems you may have so that you can discuss them with your dentist.
+
Does Florence Dental Care offer flexible appointment times? Is the office open on Saturdays and Sundays?
Our office does our best to accommodate patients with busy schedules. Our regular hours can be found on Our Office page. You may also call Florence Dental Care if you have any questions.
+
Does Florence Dental Care treat patients of all ages?
Yes! We assure you that both you and your family will be in good hands at the office of Florence Dental Care.
+
What if I'm anxious about seeing the dentist?
We do our best to make sure that every patient who steps into our office feels at ease with the care they will receive. Options such as sedation dentistry are available for those who need a little extra assistance to have a stress-free and comfortable experience.
+
How much does dental treatment cost?
At the office of Florence Dental Care, we strive to provide the highest quality of care to address all your dental needs. Once we've had the opportunity to examine your smile, we can give you a clear picture of any dental issues that are present along with a quote for what the cost of treatment will be. The cost of care all depends upon the extent and complexity of issues affecting the health or appearance of your smile and the types of procedures that are required. Our goal is to make dental care more affordable so that you can begin treatment without any additional stress or delay.
Keep in mind that with routine dental checkups and periodic care, we can help prevent dental disease while treating emerging problems early in their onset to avoid larger issues and more expensive care down the road.
+
Does Florence Dental Care accept my dental insurance? Does Florence Dental Care offer a dental savings plan?
Please check the financial information section on our website. If you have any additional questions, feel free to give our office a call and our friendly staff will be happy to answer them for you.
+
What is the best method of replacing missing teeth?
If you've lost a tooth due to injury, decay, gum disease, or any other reason, we recommend dental implants to replace missing teeth. Dental implants come the closest to replicating the look, feel, and function of your natural teeth.
+
Is flossing as important as brushing? What causes gums to bleed?
Absolutely! Both flossing and brushing regularly are equally important to maintain your oral health. While brushing cleans the surface of your teeth, flossing cleans in between them. Flossing is important to prevent plaque buildup, which can cause gums to recede and lead to periodontal disease.
+
Do you still need to see a dentist if you have dentures?
Even if you have dentures, it is still necessary to see a dentist! Dental checkups help ensure that your dentures are fitting properly and that there are no problems. Your dentist will also check to confirm that you remain in good oral health.
+
How do I know if I need my wisdom teeth removed?
If you are experiencing any of the below symptoms, we recommend a visit to the office of Florence Dental Care for an extraction evaluation.
Sensitivity and/or pain towards the rear of your mouth
Gum inflammation
Jaw pain and stiffness
Sinus complications
Development of cysts
+
What if I haven't seen a dentist in years?
We understand that life gets complicated and busy, and for various reasons, you haven't been able to get to the dentist for care. Don't worry; it's always a good time to get back in touch with the health of your smile.
At Florence Dental Care, we offer skilled and compassionate care to address a wide range of dental needs. Whether you need a simple checkup and cleaning, restorations, periodontal treatment, root canal therapy, or the replacement of missing teeth to get your smile back into shape, we provide precise, gentle, stress-free treatment to give you a smile that is as beautiful as it is healthy.
Give us a call today; we're happy to address all your questions and concerns about getting your smile back in tip-top condition.
+
What should I do if I have a dental emergency?
Emergency dental care is a service we hope you'll never need- but if you do, the office of Florence Dental Care is here for you!
Whether you're suffering from a chipped tooth, toothache, or any problem affecting your oral health, you can be sure to get the prompt attention and compassionate care you require at our office. Patient care and comfort are our top priorities, and we offer a comprehensive range of the most advanced services to address a broad spectrum of dental needs.
While the pain of a toothache is one of the more common reasons that patients come to our office for emergency dental care, we also promptly treat emergencies that are not necessarily painful like crowns that have been dislodged and broken dentures that leave embarrassing gaps in one's smile.
You can rest assured that your oral health is in the best of hands at our office. We'll quickly determine exactly what's wrong, explain your treatment options, and then provide the precise and gentle care you require to alleviate your discomfort and get you back on the path to oral health and wellness.
Your health and comfort are our top priorities. If your dental emergency is painful, if it affects the appearance of your smile, or if you suspect that an infection is present, our office will make every effort to see you as soon as possible for care.